Convert Your Sign Business
Become a FASTSIGNS
®

Franchisee

If you are sign business owner seeking to better develop and grow your company, FASTSIGNS has the tools, resources, and support you need. You can convert your business into a FASTSIGNS center, making the process more cost-effective and much simpler.

In fact, FASTSIGNS will finance your franchise fee with only $15,000 down! Reaching your full potential is easy when you join with the #1 ranked sign franchise in the industry.
Why Should You Convert to a FASTSIGNS Center?
As a current business owner, you know how challenging it can be to establish brand recognition and serve your local market. By joining an established brand with a proven business model and support system, you can successfully meet the needs of your business community.
Benefits of becoming a FASTSIGNS franchisee:
Scaled royalty programs
FASTSTART training on efficient procedures
Buying power with vendors
Respected and recognized brand
State-of-the-art technology and training programs
Effective local and national marketing
Jump Into Our Leading Graphics Franchise
As we look to develop and add value to our brand, we keep franchisee satisfaction at the top of our list of priorities. In fact, we were named to the Hall of Fame for High Franchisee Satisfaction from Franchise Business Review for 10 consecutive years!
Interested in becoming a part of our growing sign and graphics franchise? We're excited to hear from you. Visit our Get Started page to take the first step!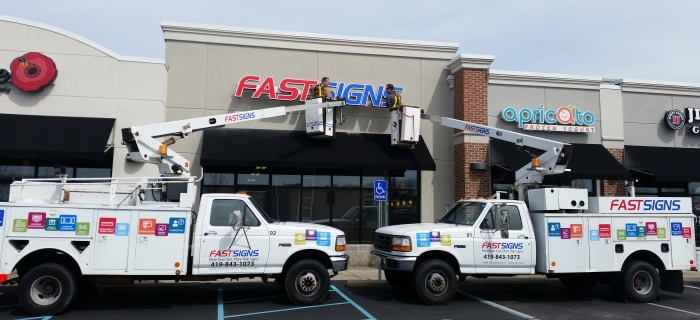 INTERESTED IN SELLING YOUR BUSINESS?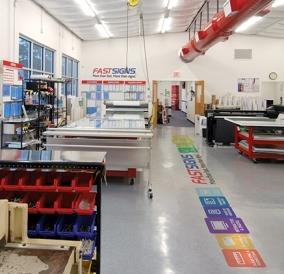 Are you are interested in the opportunity to sell your business or book of business with no broker fees - which can exceed 10% if you marketed your business separately?
FASTSIGNS can arrange to assist in selling your business either through an acquisition or conversion of your center. Our "Book of Business" program may be the best way for independent business owners to exit their business with maximum equity while ensuring the future success of their business. The transaction is managed by experts in the sign & graphics industry who have helped many owners sell under the best possible terms and conditions... whether they choose to exit the business or remain on staff under the new ownership. [Learn More]