FASTSIGNS Birmingham -Case Study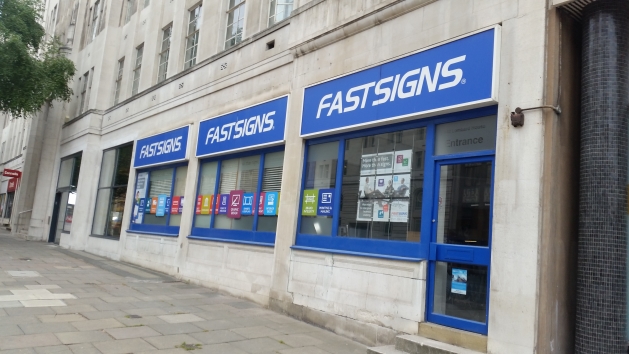 Martin and Janie Drury opened their FASTSIGNS® centre in Birmingham in 1996 and are a great example of how starting a franchise as a married couple can lead to a fulfilling and rewarding career for both parties.
The Drury's opened their FASTSIGNS centre in the heart of Birmingham. Martin had taken voluntary redundancy from British Telecom after 20 years of service, whilst Janie worked, part-time, as IT college lecturer following a successful career in sales for the yellow pages. Following Martin's redundancy, the couple had additional time together and decided to look at ways they could start their own business.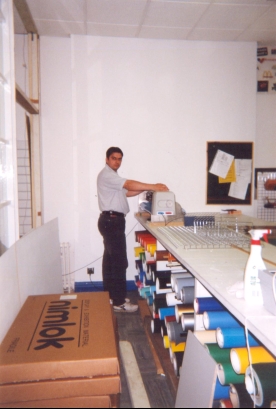 After diligent research, the couple decided that franchising, specifically FASTSIGNS, would be the best option for them and that any business they did start, would be more likely to be successful with the support of a franchisor.
Martin and Janie felt that they liked the FASTSIGNS business model, Janie believed that she could sell the products, whereas Martin enjoyed the technical side of estimating and physically producing the signage. The different skills that they brought to the partnership allowed their business to flourish, Janie set about delivering customer service, implementing admin procedures and marketing to local business in Birmingham, whilst Martin ensured that the signage produced was of the highest quality.
Having now owned the business for over 21 years, they have had to remain current and keep their skills and machinery as up to date as possible to ensure they remain competitive and provide a quality product at realistic prices.
Janie reflects fondly of how the machinery in the centre has changed, "When we opened we had a 610mm plotter and an A4 scanner now we have a Mimaki solvent printer, a laminator and 1600mm wide plotter! Through all of the changes in technology, tastes and sign fashions over the last two decades FASTSIGNS has always guided us through these changes ahead of the curve, they have been diligent in keeping us informed of likely new requests that we may see coming in through orders, new applications or improved machinery or materials available to us to help us remain current and keep up with the demand, this constant development and learning has kept both Martin and Janie fulfilled in their careers."
Janie continues that this support from FASTSIGNS International is currently happening as the UK market slowly edges toward digital signage becoming a mainstream signage application, "The quality of training we have available to us is fantastic."
Over 21 years later, Janie and Martin have a staff of five, including themselves, a graphic designer, production specialist and an inside sales professional. Martin continues to work on the technical side focusing on producing estimates for customers and ensuring orders are submitted correctly to the production team. Janie now looks after the general running and administration side of the business. Although they have been very hands on with their business, they have now reached a time where they would like to take a step back and are looking to expand their team to enable them this luxury, having run their business successfully for so long.
How has working together affected their married life together? Janie and Martin both feel that it has been no big deal for them, they just do what needs to be done and given the situation they play to each other's strengths to find the answer. The couple believe that conversation and communication is key to making sure everything runs smoothly be it at work or at home.
FASTSIGNS has been a defining part of Janie and Martin's married life, they have nurtured a successful business with a permanent representation on Birmingham's high street, provided jobs to the people of the area and also provided countless businesses with fantastic, high quality and modern signage.