Oxford North – Co-Brand Case Study
FASTSIGNS Oxford North One Year On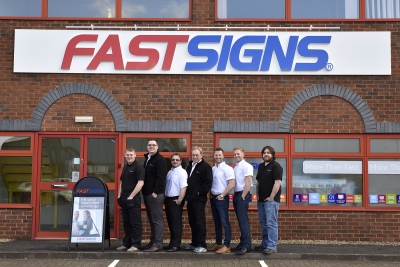 FASTSIGNS Oxford North opened in April 2016, a special centre for the FASTSIGNS UK network, as it is the first Co-Branded FASTSIGNS centre on UK soil.
Co-Branding, a FASTSIGNS franchise option, entails attaching a FASTSIGNS centre to a complimentary business such as graphic design, photography or small format printing, where synergies in both businesses can be capitalised on to boost revenue. Of the 660 centres operated by FASTSIGNS, 31 of these operate as Co-Brands.
Previously thought to be non-viable in the UK market, the Oxford North Co-Brand has proved this theory to be false by having a hugely successful first year in business; an outcome which looks to continue as they enter their second year of trading.
The Oxford North centre, owned by Michael and Sarah Ward-Hendry, bolted their new business to their existing enterprise; Ward-Hendry, a school photography and design service. The combination of the two businesses has allowed to the team employed to up skill and has created 5 jobs for the local area.
The Ward-Hendry business had previously supplied interior design services and basic signage to schools, with the expertise and machinery purchased for the opening of the FASTSIGNS centre, including a Zund CNC Cutter, they have been able to expand their offerings and provide higher quality, bespoke signage to the education industry in the Oxfordshire area. The FASTSIGNS business has also broadened their horizons in terms of the industries they are able to service with bespoke signage and visual communications, including healthcare, sports and leisure, construction, manufacturing, leisure and hospitality.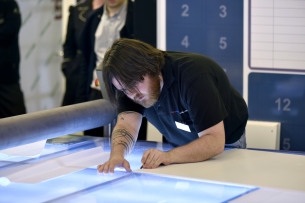 Mike Ward-Hendry said of the synergy between the two businesses, 'it's great to see how they can work hand in hand with each other, under one roof. School photography does have a seasonal aspect to it; it can be very busy in certain months of the year however FASTSIGNS allows us the opportunity to focus on other industries and additional avenues of income during that quiet period."
Managing both businesses at this time was a challenge for the team, however through following the structured business and marketing plan, which were set up with the FASTSIGNS head office support team, including online marketing efforts including PPC, SEO and social media along with traditional direct mail advertising to local businesses in the Oxford and Banbury area there were able to raise and maintain awareness of the FASTSIGNS business.
The two businesses also share an admin team, it has been imperative that each member has been fully briefed on the priorities of each business to ensure that objectives and goals have been met throughout the year, this practice is now becoming helpful as they focus on year two so they can plan to ensure the busiest time periods are better prepared for.
There have been so many highlights for the team in their first year, including attending the annual FASTSIGNS US Convention, in January 2016, held in Orlando, Florida, where they were immersed into the FASTSIGNS culture and got an understanding of how vast and truly welcoming the FASTSIGNS network really is. Mike states that his take home memory of the event was the level of support available to his new venture and the opportunity to speak to other Co-Brand owners in The States.
They have also worked on some excellent projects including perfecting their car wrapping skills, click here to watch the time lapse video of their work wrapping a BMW using high quality car wrap techniques and vinyl.