Case Study: Muhannad Ziyadeh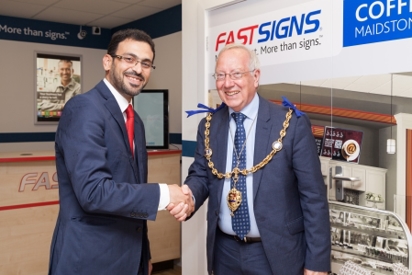 Why did you choose FASTSIGNS?
After obtaining a visa to own a business in the UK, I researched franchise opportunities in the signage industry. Having worked for printer manufacturer, Agfa selling printing machinery in Saudi Arabia, I knew I wanted to be in the signage and large format printing industry. Following a conversations with FASTSIGN UK Managing Director John Davies, I knew I was very interested in the FASTSIGNS franchise opportunity.
What information did FASTSIGNS provide you with when you looked into their franchise opportunity?
After my phone call with John, I was invited to the UK head office in Stafford for a Discovery Day where John delivered a presentation over the morning meeting. The presentation detailed everything in the business model including cost of investment, projected return on investment, support provided and marketing collateral available. There was a lot of information given to me that day, I went home and took it all in and it all made a lot of sense! I was also invited to visit any of the FASTSIGNS centres to meet the franchisees and ask them candid questions about their businesses. Following all of this research I decided this was the correct decision for me and requested a franchise agreement!
What training did you receive from FASTSIGNS?
I attended Foundations training at the FASTIGNS head office in Dallas, USA for two weeks, here I learned absolutely everything about the FASTSIGNS brand and business model from sign materials, creation and application to marketing and selling methods.
Following my time in the USA, I returned to the UK and spent some time with my FASTSIGNS mentor, Mark Phelps in his centre in Kingston. Here, I learned to apply the knowledge I acquired on Foundations to everyday life in a FASTSIGNS Centre. Finally I spent a week in my own FASTSIGNS centre with Business Consultants David Callister and Alan McLean who worked with me to ensure I was fully prepared to start work in my centre.

What was the process of setting your centre up?
From signing my franchise agreement to opening there was about 6 months until we were ready to start completing orders, this time was extremely busy with training, meetings with the head office team, locating premises and recruiting staff.
Once we had located a premise things moved very quickly within a few weeks we had contractors working on the site and machinery was arriving. Most of this was organised by head office and I was consulted on each decision right up until our grand opening in May.
Have there been any struggles along the way?
We've been open and operational for three months at the end of August 2017, there were a few teething problems as staff came on board and settled into their roles. Opening a new centre that isn't known in our local area has meant we've had to put our back into marketing and we are now seeing the fruits of our efforts starting to come in. As my team become more cohesive I expect to see the centre continue to grow.
What are your hopes for your first year in business?
In my first year I hope to build a strong customer base for the centre in the Maidstone and Kent region. Me key aim is to develop our marketing and raise awareness via positive word of mouth to begin building a solid foundation for our franchise in terms of market share.
How have the FASTSIGNS Team supported you?
From my very first phone call with John, I felt supported not only in setting up my business but with the relocation of my family to the UK. I have worked closely with each of the team members who are knowledgeable in their individual fields and are always more than happy to help myself or my team with any query we have. I'd recommend FASTSIGNS to anyone looking for a franchise opportunity in the signage industry.